The Mermaid's Sister by Carrie Anne Noble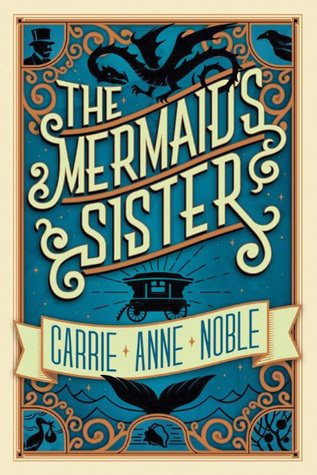 There is no cure for being who you truly are…
In a cottage high atop Llanfair Mountain, sixteen-year-old Clara lives with her sister, Maren, and guardian Auntie. By day, they gather herbs for Auntie's healing potions. By night, Auntie spins tales of faraway lands and wicked fairies. Clara's favorite story tells of three orphan infants—Clara, who was brought to Auntie by a stork; Maren, who arrived in a seashell; and their best friend, O'Neill, who was found beneath an apple tree.
One day, Clara discovers shimmering scales just beneath her sister's skin. She realizes that Maren is becoming a mermaid—and knows that no mermaid can survive on land. Desperate to save her, Clara and O'Neill place the mermaid-girl in their gypsy wagon and set out for the sea. But no road is straight, and the trio encounters trouble around every bend. Ensnared by an evil troupe of traveling performers, Clara and O'Neill must find a way to save themselves and the ever-weakening mermaid.
And always, in the back of her mind, Clara wonders, if my sister is a mermaid, then what am I?
This is the best original fairy tale I have ever read. I adored it. The writing is lovely, crisp, and simple. I loved the main character, and I loathed the antagonist. It was just wonderful. I actually sighed when I finished this one.
If you're not a die-hard fluffy fantasy fan, you might not love this book. Let's face it, not everyone is–and that's okay. But if you are–go read this now. It's free with Kindle Unlimited!